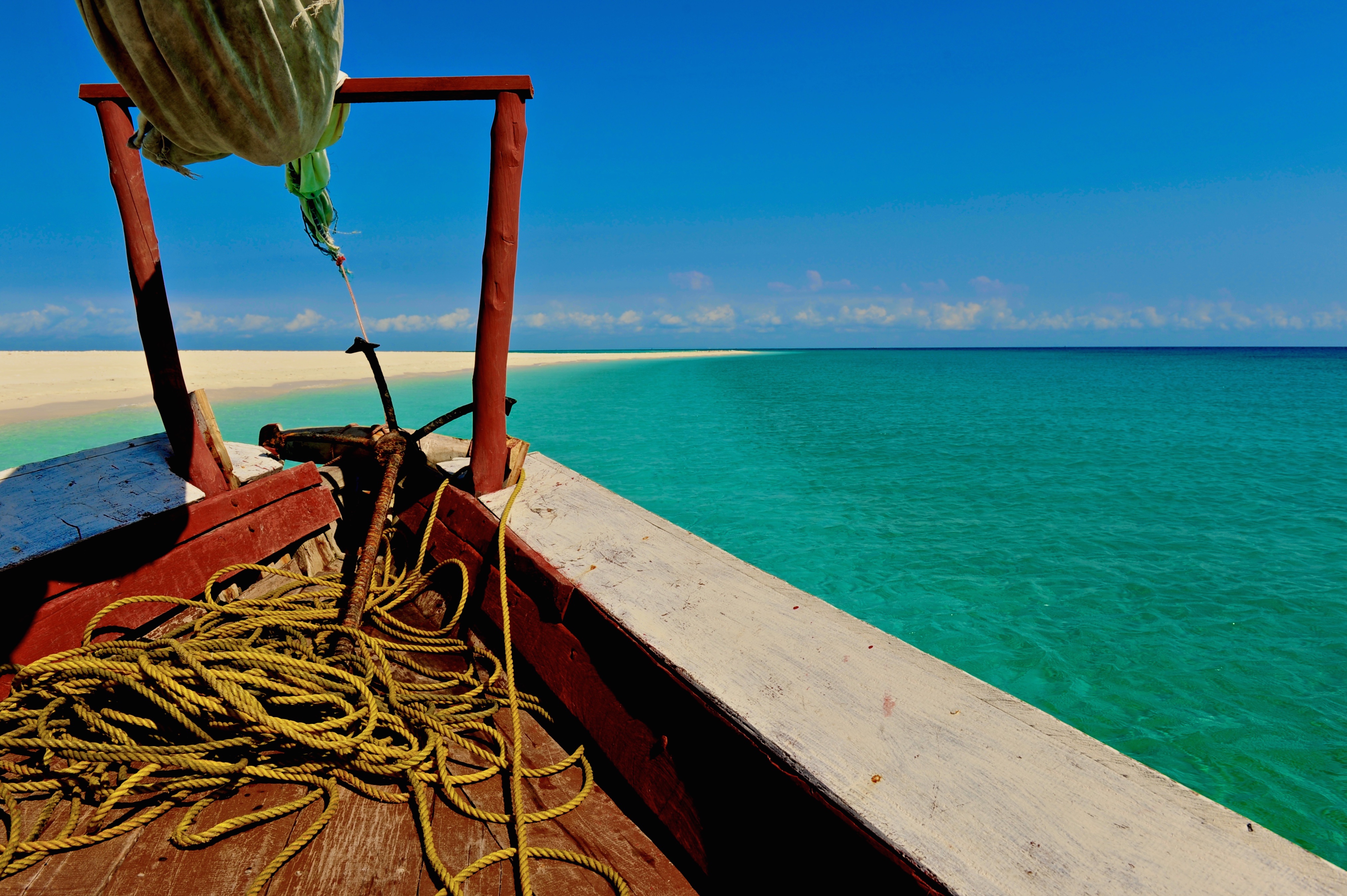 30 May

Focus on Africa with Stan Davies

Of all the places in the world Africa is like a magnet for me, Kenya, Rwanda and Zanzibar are my favourite destinations. Africa has so much to offer the photographer, right from when your flight lands at Nairobi you are transported into another world, the women in their brightly coloured garments, the hustle as crowds move through immigration until you finally spill out onto the mayhem of the streets. Kenya in particular dominated by savannas offers enchanting landscapes and a refuge for the big five (lion,leopard,cape buffalo,elephant and rhinoceros) and with 1,500 species of birds is a Mecca for ornithologists. On my visits to Kenya I have tended to move away from the more traditional and commercial circuits and explore the mountainous Samburu National Reserve and move through the Great Rift Valley discovering the Lakes Nakuru (famous for it's Pink Flamingo flocks), Bogoria and Baringo on the way to the gem of Kenya the Masai Mara National Reserve. A safari in the Mara is not to be missed, qualified guides will get you up close and personal to the wildlife. If your stay is for two or more days then you will almost be guaranteed to see the Big Five, the most elusive and my favourite the leopard is generally the hardest to track. Africa is not just about wildlife, the many tribes and cultures are most fascinating and provide endless photographic opportunities. When visiting these villages a fee paid directly to the Chief will allow unlimited access to photograph all the village has to offer. The colours and ornamentation will have you snapping away and producing some stunning images to adorn your walls on your return. You will find the children infectious and they will follow you everywhere, wanting to look at your camera or pull at that shinny watch on your wrist. At the end of the visit you will have ample time to purchase genuine African crafts made by the villagers themselves and all monies being distributed amongst tribe. After the Safari experience a favourite of mine is a visit to the island of Zanzibar and relax for five or so days in Stone Town a UNESCO World Heritage Site and the former capital and flourishing centre of the spice trade and in the 19th century the slave trade. If you are into street photography then you will be like a kid in a lolly shop, around every corner in this maze of narrow alleys lined by houses, shops, bazaars and mosques is a masterpiece waiting for you to capture. Being an island surrounded by the Indian Ocean there are plenty of pristine beaches, sandbars, Dhows (traditional sailing vessel) and sunsets to hone your landscape photography.

STAN'S LENS/CAMERA SELECTION
If you want those WOW images of the wildlife then you are going to need a lens ranging from 300mm up to 500mm. These tend to be extremely expensive and are usually confined to the professional wildlife photographer. A cheaper and just as effective alternative is a 70mm – 200mm f2.8 lens and coupled up with a 2x tele converter you have in your armoury a 140mm-400mm f5.6 lens at a fraction of the cost and will be perfect for the game drives. The 70-200mm f2.8 lens will allow you to get some amazing images when at the villages. This lens is permanently attached to my camera when I travel through Africa.

With the surge in popularity of the new breed Mirroless Cameras, mainly due to their size and weight along with some amazing features not available on bigger DSLR Cameras, the need to invest in these large lenses is a thing of the past. The Nikon 1 mirroless system has a most amazing lens available a 70-300mm VR equivalent to 189-810mm in 35mm format normally a lens of this size would require you to engage a porter to carry it around. This is my preferred lens these days for any wildlife photography. There are some amazing landscapes for the taking so a zoom from 20mm to 35mm is a must and you will need a good tripod if shooting in low light.

For those venturing on their first safari and are amateurs and want to record some quality images without the fuss of changing lenses then there are some fantastic pocket size mirrorless cameras on the market. The Lumix DMC-TZ80 boasting 18.1 megapixels with a 24mm Leica lens featuring a 30x optical zoom, which equates to 28-840mm in 35mm format is a little champion. The latest feature on this camera is a Post Focus feature, which allows you to take the photo, review the scene and touch the part of the image you'd like to be pin sharp. It's simple, stunning and all inside the Lumix DMC-TZ80. This would be a great backup camera for a professional.

RHINOCEROS
Lake Nakuru is such a great destination, with leopards, rhinos, giraffe, zebras and bird lovers will have a field day. Most years the lake is covered with the pinkish plumage of millions of lesser flamingos and it is a sight to behold when they fly off in immense clouds into the bluish air. This magnificent White Rhino was grazing on the lush grasses surrounding the lake. After observing this Rhino and encircling it several times to workout the best possible way to capture this superb specimen in it's natural habitat, I settled on this image using the lake and the pink of the flamingos as a backdrop to showcase this adult rhino. I selected an aperture of f5.6 so that the depth of field was greater and the flamingos were recognisable.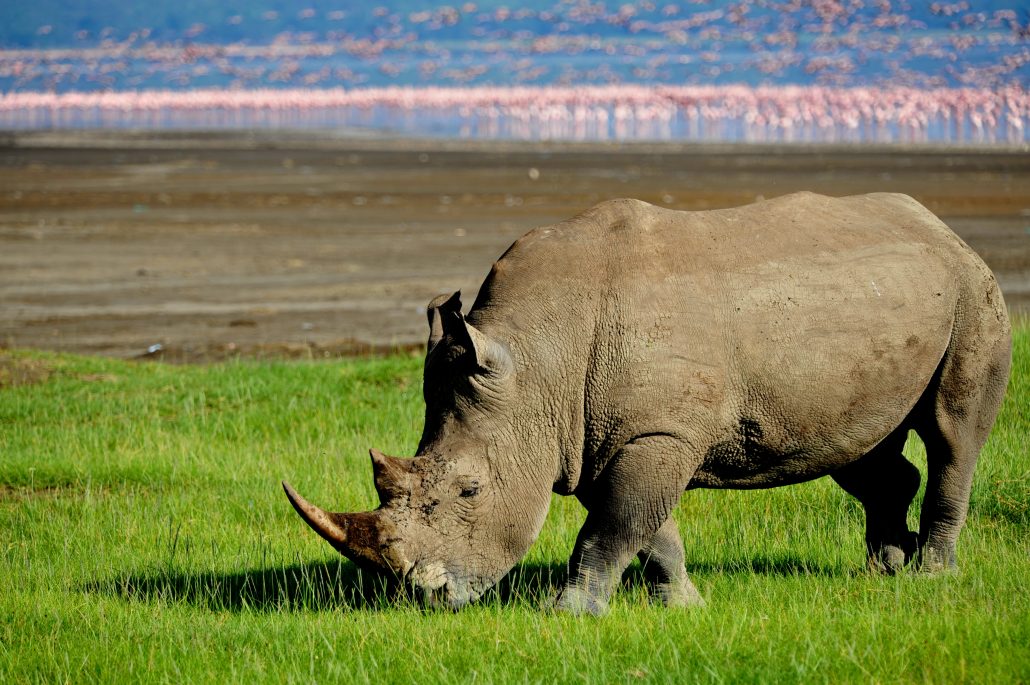 Nikon D700, Nikkor 70mm-200mm f2.8 lens, 2x converter, ISO 200, 250mm focal length, f5.6 at 1/800 sec, aperture priority.
ORNAMENTATION
The Masai warriors are known for their intricate and bold ornamentation, I came across a group of five living in the sand dunes on the island of Lamu, after chatting with them over several mornings and being invited to breakfast one day they agreed to allow me to do a photo shoot, it was the highlight of my stay on Lamu. They were so good and offered great suggestions on posing to get the best images. This close up is my favourite and the bold blues and reds of the garments against the skin provide a kaleidoscope of colours with the neck pieces draped over them. Using the 70-200mm lens set at f2.8 the background is rendered out of focus and provides no distraction to the main subject.
Nikon D700, Nikkor 70mm-200mm f2.8 lens, ISO 200, 200mm focal length, f2.8 at 1/400 sec, aperture priority.
MASAI MOTHER & BABY
This image was taken at a village in the Masai Mara, during an organised visit with the chief. Personally, people shots are my favourite, there is so much happening in a village, you have the children who are simply the best to photograph if you can get them to stay still for a second, the mothers with their young, women working on their crafts and the male warriors dancing and doing their famous leaps into the air. In this instance I had just taken some images of about six mothers and their babies lined up, this is what they tend to do for the visitors. With my Nikkor 70-200mm f2.8 lens opened up to f2.8 to throw the background out of focus I quickly zoomed into maximum focal length 200mm, I went down the line framing a head and shoulders shot of each mother and baby. In these situations you have to move very quickly as you won't have time to spend setting up individual shots. I just love the bright yellow garment against the skin and the babies position in the sling is perfect. This image is probably one of my best portrait shots from Africa and I have it displayed on canvas 1.3m x 900mm in the entrance hall.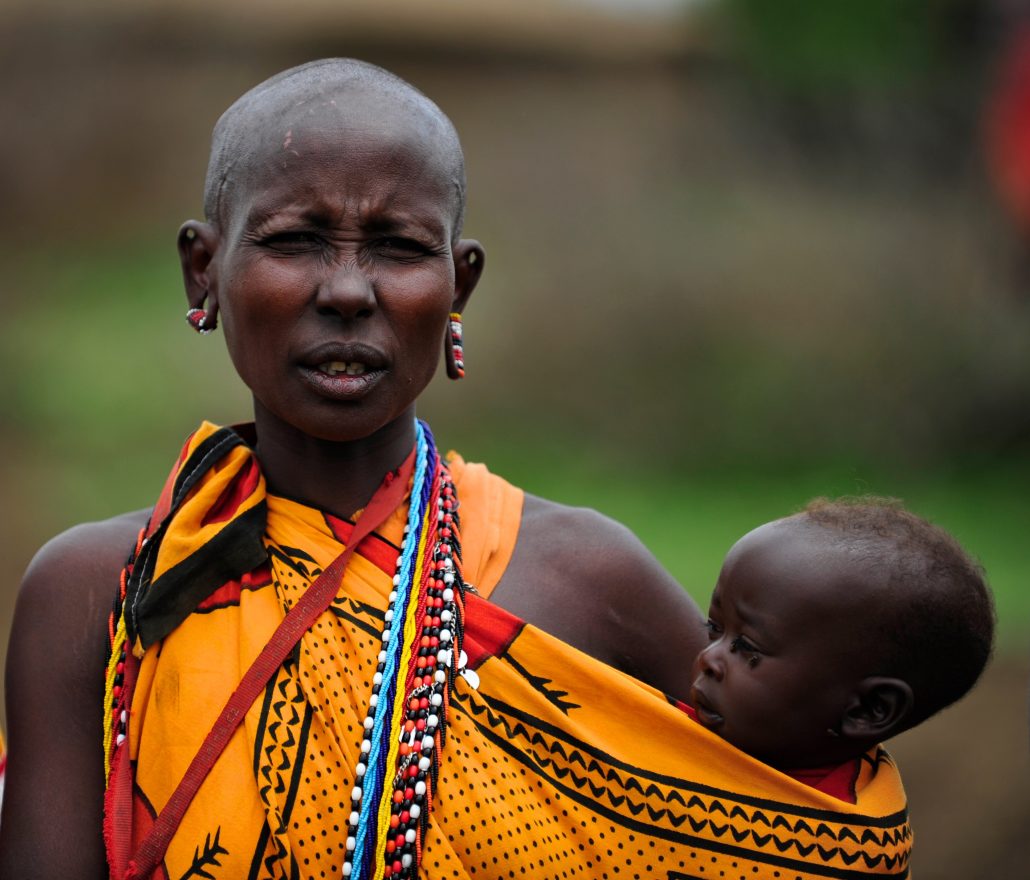 Nikon D700, Nikkor 70mm-200mm f2.8 lens, ISO 200, 200mm focal length, f2.8 at 1/2000 sec, aperture priority.
BROTHER LIONS
On this particular drive we were looking for leopard and had been out for three or so hours without any luck. My guide sighted these brothers on a mound overlooking some small game. Their focus was amazing even as we drove around them trying to get the best position for a photograph they didn't take their eyes off the game grazing in the distance. I spent about 30min observing these brothers and taking many images, trying to nail the trance these brothers seemed to be in. After downloading this image I was pleasantly surprised to see that one lion had green eyes and the other brown but both firmly focused on the game in the distance. Once again the background is beautifully soft and rendered out of focus allowing the subject to standout. When photographing animals you always focus on the eyes.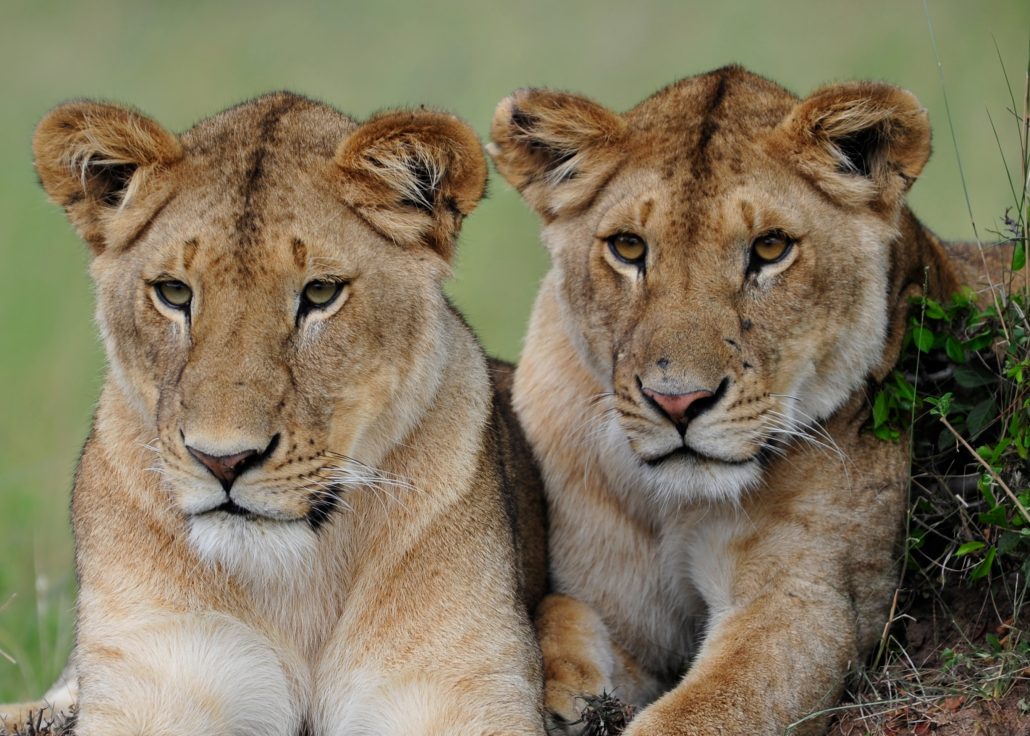 Nikon D700, Nikkor 70mm-200mm f2.8 lens, 2x converter, ISO 200, 400mm focal length, f5.6 at 1/125 sec, aperture priority.
FISH ON A STRING
The island of Zanzibar is a Mecca for fish, where ever you look there are fishing boats littering the waters off small villages. Every morning the boats come in and there is a frenzy of activity as locals and restaurants clamber for the spoils of the ocean. This image was taken on a day trip to the north of the island near the town of Mkokotoni, the boats had just started to come in and the produce was being displayed on a large raised concrete slab. There was such a variety and the colours were amazing, large spotted stingrays, small sharks and varieties that I had never seen before. I didn't know where to turn, so many great shots to be had, fishermen, old women, children and the array of fish laid out for display. Sometimes with photography you just have to be in the right place at the right time and this was one such time, the way the sunlight starts from the finger and follows the string down to fish and their eyes looking back up the string is uncanny. With the aperture set at f2.8 I was guaranteed that the background would be out of focus and the feet of the fisherman behind give scale to the image.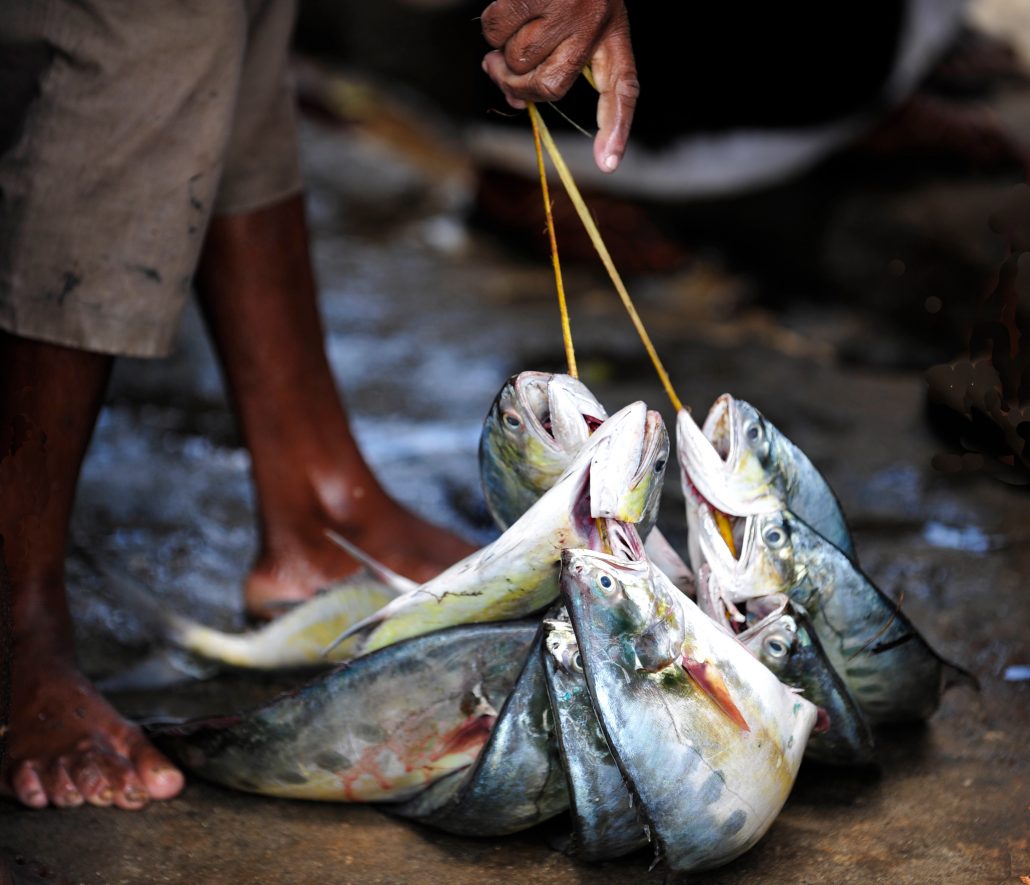 Nikon D700, Nikkor 70mm-200mm f2.8 lens, ISO 200, 125mm focal length, f2.8 at 1/640 sec, aperture priority.
SEASCAPE
During a trip to one of the many pristine sandbars just off Stone Town on a traditional Dhow I was relaxing soaking up the blue sky and the succulent turquoise water that I was going to be snorkelling in for the next couple of hours. As the Dhow approached the sandbar I stood up to get a better look and take a photograph, as I raised the camera to my eye I was surprised by the foreground interest in front. The frame at the bow of the Dhow with the sail draped over it and the rope with the anchor were perfect. This image is so calming and would not look out of place hanging from a wall in a seaside villa or beach retreat.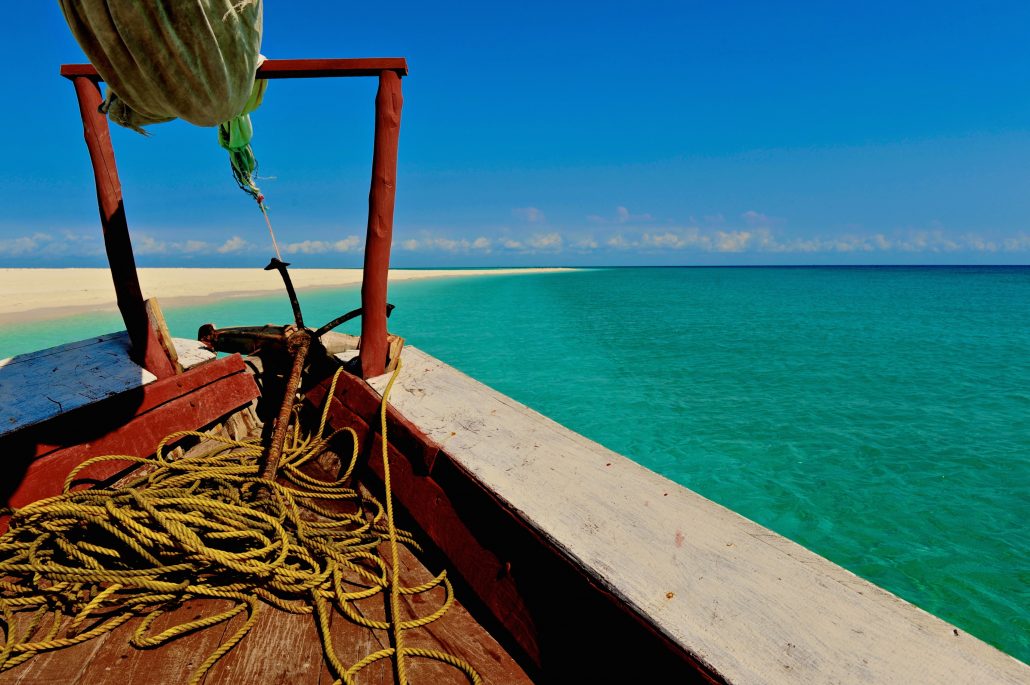 Nikon D700, Nikkor 24mm-70mm f2.8 lens, ISO 200, 24mm focal length, f10 at 1/400 sec, program mode.